What We Believe, Teach, & Confess:
St. Matthew Lutheran Church believes that the Bible is the inerrant, inspired Word of God and is a record of true events that happened in a real time and in a real place. We confess that the three creeds, (the Apostles, Nicene, and Athanasian) along with the Book of Concord and the documents contained therein are faithful expositions of Scripture. We boldly confess that Jesus Christ is both true God and true man, Who came down to earth, suffered, died on a cross for the sins of the world, rose again the third day and ascended to the right hand of the Father. The salvation which He alone accomplished by this work, He now offers to all mankind in the Gospel preached and the Sacraments administered.
Our Mission
St. Matthew Lutheran Church exists to proclaim the good news of the Gospel of Jesus Christ for the salvation of the world and to serve all people in acts of love, mercy, and charity.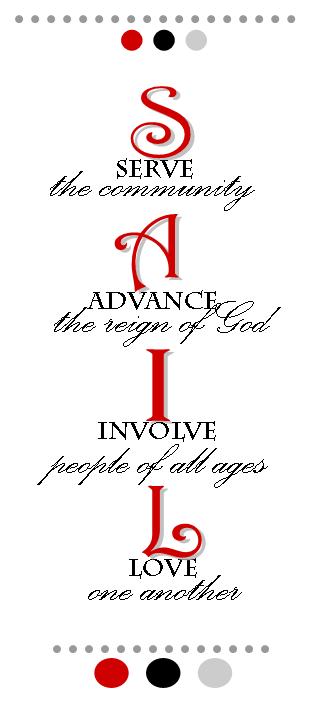 Serve the community through...
Providing for those in need
The Seven Baskets Kiosk is a collection point for requested items from various local charities.
Our Charity of the Month provides financial donations to support various local charities.
The Outreach Committee visits to local nursing homes throughout the year, bringing small gifts and care packages to the residents.
Advance the Reign of God through...
Coffee Break Bible Study
A Tuesday study in the Scriptures, some coffee, and fellowship are just a few things you will receive at Coffee Break Bible Study.
Sunday Morning Bible Study
This group meets to learn about the Scriptures. Age-appropriate Sunday School teaches Bible lessons, songs, prayers, and activities help our young members grow in faith.
Involve people of all ages through...
Men's Fellowship Bible Study
Men's Fellowship Bible Study gathers every Monday morning. Between bites of breakfast, men of all ages support each other through conversation, fellowship, Scripture study, and prayer.
"Older men are to be sober-minded, dignified, self-controlled, sound in faith, in love, and in steadfastness." (Titus 2:2, ESV)
"...urge the younger men to be self-controlled." (Titus 2:6b, ESV)
Stitch 'n Prayer
Women gather in Spruce Hall to work on prayer shawls as they pray for those in need in the congregation and throughout the community.
Handbell Choir
Members high school and older are welcome to join this group of musicians who make a joyful noise to God during festive church services.
Love one another through...
The Service of Prayer
The people of St. Matthew seek to love one another by praying for the church, world, and one another during the Service of Prayer. This opportunity begins with the reading of Scripture and moves toward specific prayer petitions. Silent prayer is welcomed.
"And so, from the day we heard, we have not ceased to pray for you" (Colossians 1:9a, ESV).
Martin Luther said, "I still find it necessary every day to look for time during which I may pray."
Sunday Morning Coffee Fellowship
Gather with us in Cedar Commons following Divine Worship every Sunday.  Enjoy coffee, tea, and treats as you visit with your fellow worshipers. Our children join us for treats they enjoy as they visit with friends and visitors.