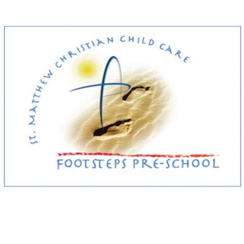 St. Matthew Childcare with Footsteps Preschool
St. Matthew Childcare and Preschool ministers to area children from age 6 weeks through 12 years old.  We serve as an arm of local parents to provide kind and loving support, nurturing instruction, and thoughtful guidance to the children entrusted to our care.
At St. Matthew, we are committed to provide excellent Christian childcare.  We know this is essential to the health and wellbeing of our families.
To discuss how our qualified and professional staff can serve your family, please call us at 616-846-4019 to arrange a time to discuss our program and tour our facility.
Covid-19 Response:
St. Matthew Preschool & Childcare follows all safety and sanitizing protocols recommended by our licensing requirements. Masks must be worn upon entering the building and temperatures are taken each morning before any child or adult is allowed to participate in preschool activities. Sanitization stations are at the front door upon entry and sanitation practices are continued throughout the day. A commercial fogging machine sanitizes the preschool after hours.